Are you tired of dealing with the annoyance of facial hair? Does it feel like a never-ending hassle to continuously shave, wax, and tweeze just to maintain your desired look? If so, laser hair removal could be the solution for you, without all the effort!
Laser hair removal has become an increasingly popular treatment in recent years due to its ability to achieve long-term results with minimal discomfort. With its precision targeting of unwanted hairs and lack of damage to surrounding areas, this treatment can provide major benefits as opposed to traditional hair removal methods.
Read on to learn more about why laser hair removal is such a great option regarding facial grooming and how it can help improve confidence levels by providing perfect, clean skin permanently!
Understand the Basics of Laser Hair Removal on the Face
This advanced technology uses a concentrated beam of light to target and destroy hair follicles, preventing them from growing back, without damaging the outside skin. Although it may sound daunting, the procedure is actually quite simple and painless, requiring little to no downtime – making it a great option for those looking to ditch the hassle of regular hair removal methods. In fact, most people describe it as feeling like a rubber band lightly snapping against their skin.
Laser hair removal can be done on various areas of the face, including the upper lip, chin, and cheeks. Results typically vary depending on their personal hair growth cycle, but the best part is every patient can achieve permanent hair removal results by following the recommended treatments by their laser technician.
With just a few sessions, you can say goodbye to unwanted facial hair and hello to smooth, lasting results. If you're tired of dealing with unwanted facial hair, consider laser hair removal as a viable option – your skin will thank you in the long run.
Safer and More Effective than Manual Hair Removal Methods
For many people, hair removal is an essential part of their personal grooming routine. However, traditional manual methods like shaving, tweezing, depilatory creams, and waxing can be time-consuming, painful, and ineffective.
Hair removal has come a long way since the days of harsh chemicals and painful manual methods. Advancements in the beauty industry have led to safer and more effective methods of hair removal, leaving behind the days of nicks, cuts, razor burns, and ingrown hairs.
Our safer and more effective hair removal technique guarantees a smoother and longer-lasting result, while also being gentler on the delicate skin of all skin tones – preventing any risk of harm to the surrounding tissue!
With our state-of-the-art laser technology, the procedure is more comfortable than other lasers on the market. The epidermis is protected by the Dynamic Cooling Device™, which sprays the treatment area before each laser pulse with a liquid cryogen coolant. This system provides a cooling effect to calm the skin and ensure you feel no pain or discomfort during your hair removal journey! Plus, our laser is FDA and CE-cleared.
With advances in technology, laser hair removal has become faster, more precise, and virtually pain-free. So if you're tired of constantly shaving or waxing, it's time to try laser hair removal for your facial hair.
Say goodbye to the old-fashioned hair removal techniques and the inconvenience of shaving every other day and hello to newfound confidence with our modern and revolutionary laser hair removal process.
Permanent Hair Removal Results
Thanks to advancements in technology, permanent hair removal is possible! Our stellar laser is a safe and effective option for both men and women of all skin and hair types. The results speak for themselves, with smooth, silky skin that lasts for years instead of hours. The results are truly life-changing, you'll wonder how you ever lived without it!
Permanent hair removal is a game-changer for those who are tired of the constant chore of personal grooming. Imagine a life where you don't have to worry about the embarrassment of unwanted hair, spending countless hours in the bathroom, or enduring the pain and irritation that comes with DIY hair removal.
Smoother Skin in No Time!
Achieving smooth skin quickly has never been easier with the Candela Gentle YAG Pro laser at Hair Removal Winnipeg. Our highly efficient laser allows for the treatment of large areas in a short amount of time, making it possible to enjoy the benefits of smooth, hair-free skin in just a few sessions.
With our laser, the skin follicles will shrink in size, leaving you with soft, supple, and healthy-feeling skin! This also means a spectacularly decreased risk of infection and inflammation associated with hair growth!
Safe and effective on all skin tones and hair types, the Candela Gentle YAG Pro laser provides you with the confidence of the flawless complexion you deserve in no time!
Prevents Risk of Ingrown Hairs/Infection
Traditional methods of facial hair removal can often result in painful and unsightly ingrown hairs, which can lead to skin irritation and infections. Luckily, our laser technology targets the hair follicles at the root, preventing new hair growth and keeping ingrown hairs at bay!
Moreover, without the skin being exposed to harsh chemicals or sharp, unsanitary blades, there is no risk of infection. Additionally, the precise energy delivered by the Candela Gentle YAG Pro laser helps to destroy any bacteria or pathogens on the skin's surface. This makes our laser hair removal treatment a safer and more hygienic option for achieving smooth and flawless skin on the face, with zero risk of ingrown hairs or infections while following all our spa's guidelines for the proper after-skincare routine.
A Quick and Easy Way to Enhance Your Appearance
In today's fast-paced world, every moment counts. We don't have time to spend hours getting ready, but we still want to look our best. If you're looking for the quickest and easiest way to achieve your desired look permanently, our laser is the magic wand you've been looking for!
With its highly efficient design, the Candela laser allows for fast and effective treatment of large areas, so you can achieve noticeable results in just a few sessions. With an 80% permanent hair reduction in only 3 treatments!
Unlike traditional methods of facial hair removal that require frequent maintenance and time-consuming routines, especially when working on delicate areas like the face – our laser treatment offers a hassle-free and time-saving option with sessions only lasting up to 30 minutes total on the face.
It's super easy to fit into your schedule as you only come for your treatment once every 4-6 weeks! You can book your appointment and be out in no time, and after your recommended treatment package, you won't need to attend appointments anymore!
Enhance your appearance with the quick and easy solution of laser hair removal, and enjoy the benefits of smooth, flawless skin without any fuss!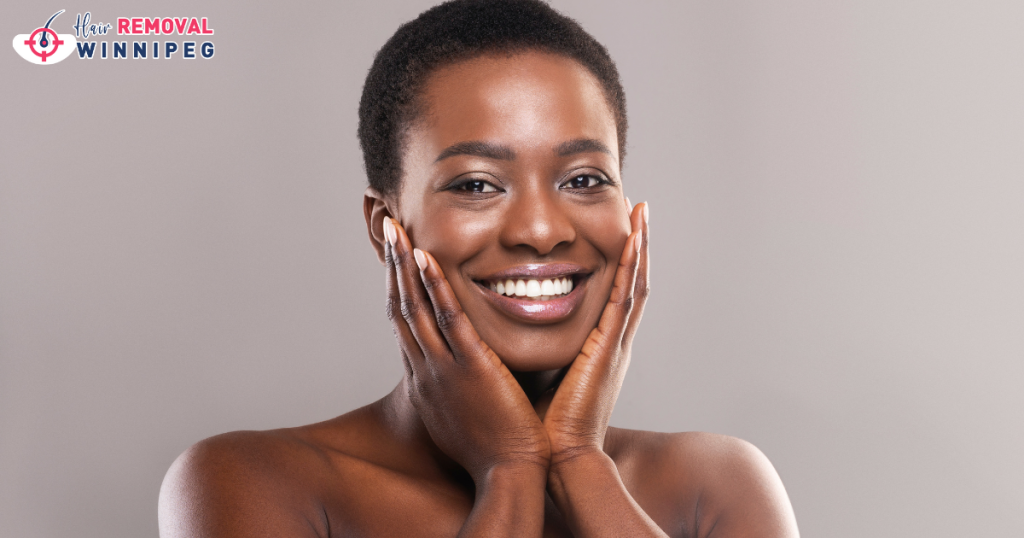 Save Time, Money, and Hassles with Laser Hair Removal Treatments
That's right, laser hair removal is a proven method for effectively eliminating unwanted hair, without the need for constant maintenance. Not only will you save time and avoid the hassle of daily shaving or other laborious hair removal methods, but you'll also save money in the long run by avoiding the cost of purchasing razors, depilatory creams, wax strips, or regular hair removal treatments.
Plus, with advancements in laser technology, our treatments are now more comfortable and effective than ever before. Imagine no longer fretting about razor burns, ingrown hairs, or routinized wax appointments.
Trust in the professionalism and expertise of our technicians to provide the best treatment options for you. Say goodbye to the inconvenience of hair removal and hello to more time and money in your pocket!
Make a Skin-vestment in Your Face with Hair Removal Winnipeg
Laser hair removal has changed the game for both men and women who want to get rid of unwanted facial hair! From smooth, permanent results to massive savings and hassle-free treatments, laser hair removal is an amazing choice for those looking to improve their appearance without having to resort to methods of manual hair removal.
Not only does it provide a much quicker outcome than waxing or tweezing, but it also protects the skin when it comes to ingrown hairs, burns, skin irritation, and infections.
Plus, with its impressive results in as little as one session, you can wave goodbye to bothersome hair right away!
Now is the perfect time to look into laser hair removal as part of your beauty routine. As specialists in this field, we are here to help take care of all your needs so you can look and feel your best.
Please contact us today with any inquiries you may have about laser hair removal for facial hair.
Book your FREE consultation online now – it can be done over the phone or in person at our spa.